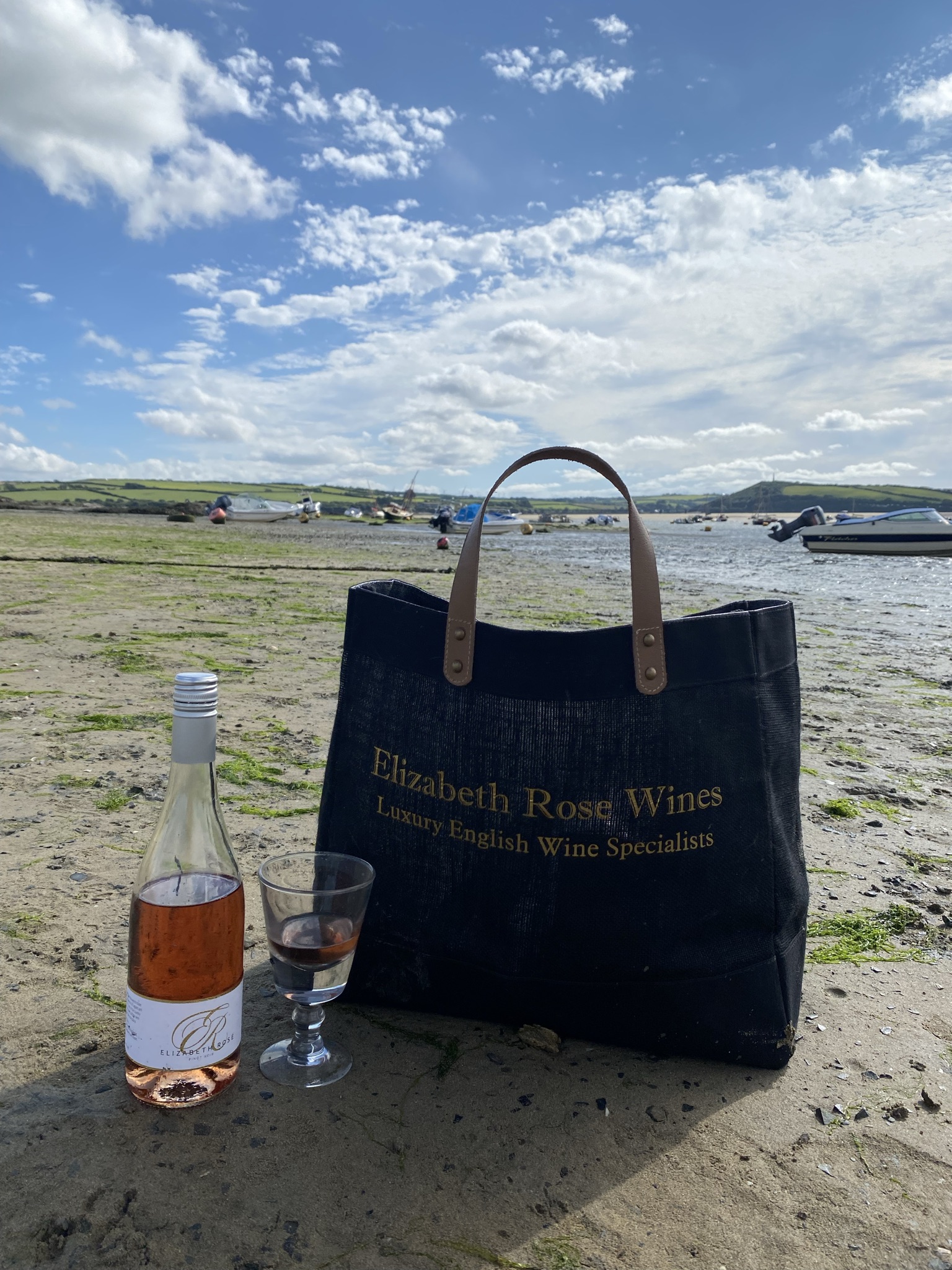 We've created some beautiful environmentally friendly products to help you go about your day in a stylishly sustainably way. Read on to find out more and discover some ethically produced English wines.
Our water bottle is the very best! Keeping your hot drinks hot and your cold drinks cold. These thermoregulated bottles mean you can say goodbye to your single use plastic bottles, and for every bottle you buy onegreenbottle removes 25 plastic bottles from the ocean. Each bottle is 800ml, has a laser engraved logo (meaning your bottle will stay looking great for years to come) and comes with a sports cap and straw as standard.
Our beautiful bag for life is the perfect size for a picnic blanket and a few bottles of wine. It's wipe clean material means it's perfect for going from a messy beach day to a shopping trip. Finally, with luxury leather handles and brass feet, we think you'll love this bag just as much as we do!
Want to enjoy exceptional wine without those dreaded "wine miles" increasing your carbon footprint? Drinking ethically produced English wines is a fantastic way to help!
One of the reasons we first fell in love with English and Welsh wine is because it's local! So many restaurants highlight the fact that their ingredients are local, but fail to have a single English or Welsh wine on the list… We love exploring the vineyards near us and finding a wine that needs to travel just a few miles to be enjoyed, instead of thousands of miles from across the world.
What's more, there are lots of ethically produced English wines, produced using low intervention methods. This means that the soil is kept full of nutrients and harmful chemicals are not used for weeding or fertilisation. Being certified Organic is very difficult and expensive for vineyards. However, we wanted to shine a light on these three ethically produced wines that we think you'll love…
Bardfield Anne of Cleves
Firstly, this is a beautiful organic Bacchus from Essex. This Bacchus is delightfully gentle and has an abundance of softer fruit flavours, such as pear.
Bardfield Anne of Cleves
**Winner of a bronze medal at the Wine GB 2020 awards**
A wine steeped with history!
Oxney Single Estate NV
Secondly, a really special sparkling wine made from an organic vineyard in Sussex. We love the whole Oxney range and we think this one is perfect for a celebration!
Oxney Single Estate NV
A fresh, approachable style of English sparkling wine with flavours of red apple, pear and toast.
Trevibban Black Ram
Finally, a firm favourite for many of our customers! Trevibban vineyard is situated in the Cornish countryside, with sheep roaming the grounds to keep the grass down between the vines and a wild garden next to the tasting room buzzing with bees and butterflies. Trevibban's commitment to farming sustainably really pays off with their range of award winning wines.