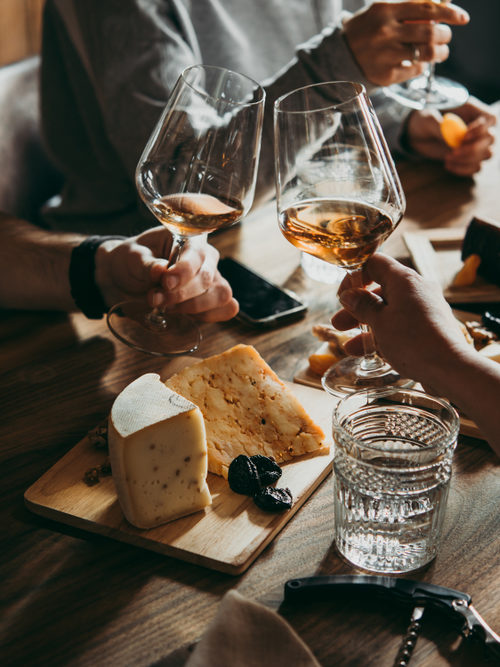 One of our favourite things to do together in winter is put together an elaborately delicious cheese board, open a couple of bottles of wine and just indulge our senses for hours whilst setting the world to rights…
So when challenged with finding the perfect ENGLISH wine pairings for cheese, I jumped at the chance. Finding the perfect match can be all kinds of fun!
My very general rule for wine and cheese pairings has always been to try and pair congruently – that is, to choose wines and cheese with similar or shared features. The simplest way to go about this is to think about the intensity of the wine or cheese you are pairing with. The more intense the cheese, the bolder the wine. 
Below I've put together a list of some of my favourite English wine and cheese pairings for you to try.
Cheddar / Gouda / Fruity, Umami Cheeses
For a strong cheddar, I would serve a full-bodied, savoury red. This Sharpham Beenleigh Reserve popped straight into my head – a unique Bordeaux blend grown and produced here in the UK. This rich, complex wine has notes of blackcurrants and vanilla, with juicy acidity and gentle tannins. It really draws out the bold flavours of fruity, umami cheeses.
Feta / Halloumi / Goats / Salty, Crumbly Cheeses
Tangy, salty cheeses match well with the zippy acidity of a rose. This pale, delicate London Cru rose has pink grapefruit and fresh strawberry aromas that make these cheeses pop with flavour. Feta and halloumi are traditionally Summer cheeses – but goats cheese can be eaten all-year round and I am definitely an advocate for rose all-year round so don't be afraid to try this combination this winter!
Gruyere / Comte / Nutty, Hard Cheeses
These more delicate cheeses would be overwhelmed by anything too intense. My favourite pairing for a Gruyere is a soft Pinot Noir. The delicious Davenport Estate Diamond Fields Pinot Noir has pretty red berry and peppery aromas that pair perfectly.
Brie / Camembert / Delicate, Buttery Cheeses
An unoaked, cool-climate Chardonnay is best with creamy, soft cheeses such as Brie and Camembert. This brightly acidic Simpsons Chardonnay works really well. Both wine and cheese display creamy textures that simply bring out the best in one another. 
Stilton / Roquefort / Gorgonzola / Pungent Blue Cheeses
Traditionally served with Port and dessert wines, stilton requires something that can stand up against its pungency. This Trevibban Orion has a round body with dried apricot and orange peel notes that give it a similar character to a dessert wine, if much drier. It is absolutely delicious with strong blue cheeses.
Parmesan / Pecorino / Manchego / Dry, Salty, Umami Cheeses
These dry, tangy, salty, umami cheeses need a spicy, fruity, medium-bodied red. This bold Winbirri Signature red bursts with rich plum and dark berry fruits that match the intensity of these cheeses but also provide a nice contrast between sweet and savoury. Another excellent pairing!
Ricotta / Sour Cheese and Cream Cheeses
Sparkling wines are incredible with soft, creamy cheeses, offering a palate-cleansing effect. This ripe, zesty Stopham Estate Brut Prestige has a full and creamy texture that is the perfect match for creamy cheeses.
What are your top tips for pairing English wine and cheese?
We would love to know – please leave a comment or send us a message on socials!