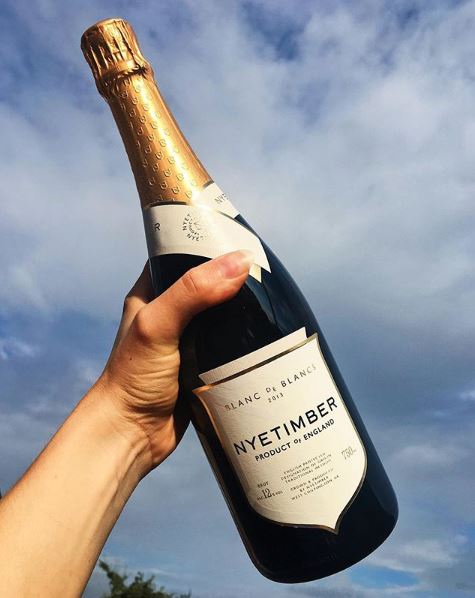 2019 – What a year! From starting our Instagram page back in April, to launching the business in September, with many a vineyard visit, YouTube interviews, wine fairs and features in The Times all along the way, we can't wait to see what 2020 has in store for Elizabeth Rose Wines. In true #Insta style, we thought we would summarise our Top Nine posts of the year as chosen by You, with a little look back at the year gone by…
To celebrate the launch of Saffron Grange, our closest vineyard neighbours and a truly special team of people, we gave away a bottle of their Classic Cuvée presented in this beautiful gift box and alongside a pair of Saffron Grange branded glasses. We get such a buzz out of doing these competitions. Congratulations to our winner, @wine90 – we hope you enjoy!
To celebrate the launch of Elizabeth Rose Wines, we gave away a MAGNUM of gorgeous Giffords Hall Rosé! The engagement with this competition blew us away and it was an absolute pleasure to launch the business with a giveaway.
WINE FOR A FIVER?
This post by @christinarasmussen_ really caught our eye back in October and we just had to share with you fellow wine-lovers as it not only highlights where your £5 really goes if you choose to buy at this price-point, but in our eyes justifies the fair-pricing of quality English wine.
ERW Timeline of Events
In September the business went LIVE and we celebrated how far we had come in such a short amount of time with a little timeline of key business events. It really put things into perspective for us. Things have been going from strength to strength and that is thanks to our hard work and to YOU! Our lovely ERW customers – whose own English wine adventures bring us so much joy.
ERW and Elder Street Café visit Saffron Grange
We were absolutely delighted to be invited to Saffron Grange for a private tour and tasting with our first and favourite trade customers, Elder Street Café. As part of their dedication to their local wine list, the team at Elder Street jumped at the opportunity to meet the wonderful people behind Saffron Grange and see for themselves the beautiful vineyards we have right here on our doorstep. 
Breaking through the clouds
Nyetimber Blanc de Blancs 2013 has to be one of the most talked-about English sparklers this year so it was only right to feature this wine when we decided to add it to our stock back in August. Jancis Robinson described it as a ballerina of a wine, and I am waiting for a very special occasion to pop myself open a bottle and taste the delicate texture and tightrope balance for myself. 
The very first twinkle of Elizabeth Rose Wines occurred on our life-changing holiday to Cornwall. Cornish Wine Tours took us around some stunning Cornish vineyards and opened our eyes to the magic of English wine. We hope to return in 2020 and expand our knowledge of wine scene in Cornwall even more.
The Wiston Estate Vintage Cuvée Brut 2009 won a Gold medal at the IEWA 2019 awards. It also won gold outstanding at The IWSC International Wine and Spirit Competition 2018. Many English wine fans told us they had a bottle of this stashed away for a special occasion. With such strikingly beautiful blue branding, I feel as though it would be a fitting choice for toasting the birth of a baby boy in 2020(!) – drinking beautifully now, but also has great ageing potential.
A new team member!
Elizabeth Rose Wines looks forward to welcoming a new member to the team in Spring 2020! A little boy will be joining us on our wine adventures and we just can't wait to meet him and introduce him to you all.
Huge thanks to you all for keeping us on our toes, engaging with us and of course, sharing your ERW English wine adventures with us.
Here's to a fantastic New Year ahead!
Cheers – Becky and Sara xxx