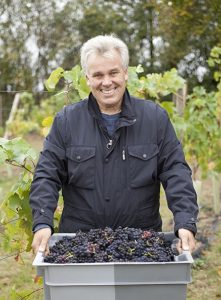 Saffron Grange Vineyard is the vision of vineyard owner, Paul Edwards. The vineyard is dedicated to producing high-quality grapes destined for premium English sparkling wine.
Paul's passion shines when he talks about the history, soil, design and environmental impact of Saffron Grange.
The Wines
Saffron Grange Seyval Blanc Reserve
An English Sparkling Wine from Essex!
With Champagne-style sparklers dominating English Sparkling Wine, it is exciting when a producer does something different!
Seyval Blanc is a French grape that is popular in England due to its preference for a cooler climate.
This beautiful wine has notes of toast and floral honeysuckle on the nose. It has a lemony fresh palate, and a crisp mineral finish.
It makes for a really lovely aperitif, and goes particularly well with seafood dishes and fresh oysters.
Saffron Grange Classic Cuvée 2019
An English Sparkling Wine from Essex!
This gorgeous Classic Cuvée will appeal to all traditional English Sparkling wine fans.
Pale gold in colour with fine bubbles, this wine has enticing toasty notes on the nose.
Perfectly balanced on the palate with notes of strawberries and cream, a hint of brioche and a long, refined finish.
Pairs beautifully with smoked salmon, oysters and scallops but also shines as an aperitif
The People
"Wine is the only artwork you can drink" – Luis Fernando Olaverri
It comes as no surprise to read this quotation on the Saffron Grange website. It feels like a true reflection of their attitude towards English winemaking from soil to glass.
This is a vineyard with heart, and the wines are a product of their undeniable love of the land.
The Soil
Saffron Grange Vineyard sits upon the same chalk seam that runs all the way from Champagne, up through Sussex and into Essex.
Combined with their unique climate and gentle, south-facing slopes, Saffron Grange have perfect conditions for an English Sparkling Wine vineyard.
Brut the woolly mammoth
Introducing 'Brut' the woolly mammoth! Brut is the face of Saffron Grange.
Both tusks and teeth of woolly mammoths have been unearthed in the River Slade. This is the river which runs along the bottom of the site.
Nature and the environment
Saffron Grange operate a minimal-intervention vineyard. They encourage predatory insects such as earwigs, ladybirds, hoverflies and wasps. These insects help to naturally control aphids which can impact vine growth.
The vineyard benefits from a fairly dry climate which puts the vines at lower risk of major fungal diseases. In addition to this, the well-draining chalk soil prevents vine root diseases that can be caused by standing water.
These vineyard features mean that Saffron Grange has less need for spraying, and they use natural bacterial sprays wherever possible.
Saffron Grange works hard to promote nature and wildlife on site. They allow wild flowers to thrive and encourage endemic flora and insects to thrive.
Visiting
Saffron Grange is open for tours and we cannot recommend a visit enough.
We are in absolute awe of this vineyard and all the wonderful people whose commitment to the land has created a real masterpiece.