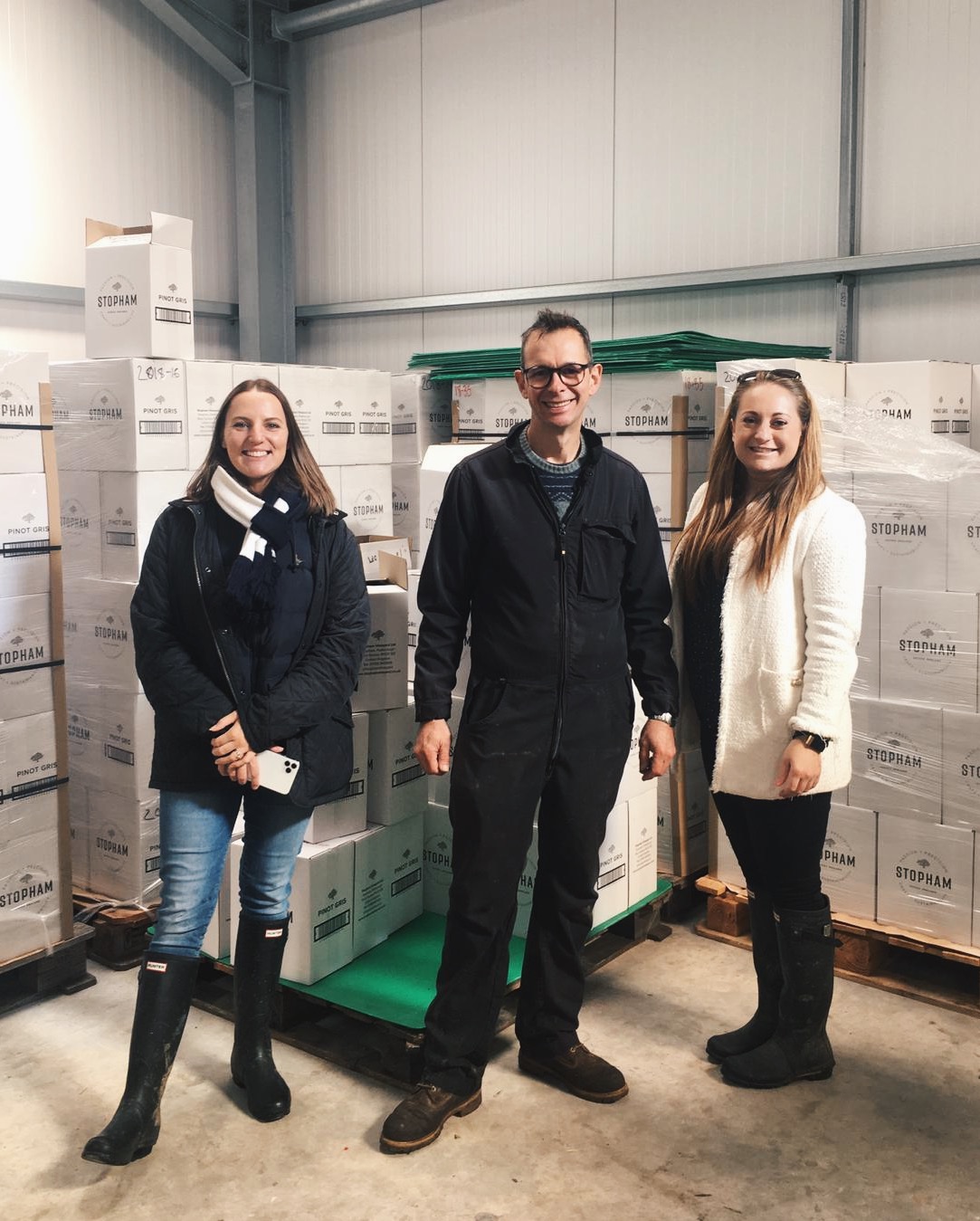 Sussex-based winemaker Simon Woodhead embarked on a career as an F1 engineer before choosing to pursue his passion for winemaking instead. Having studied Viticulture at Plumpton Agricultural College, his approach to winemaking involves a focus on aromatic still white wines which feel both modern and timeless. Here, we explore Stopham Vineyard and find out all about Stopham Pinot Gris…
Stopham Vineyard
Stopham the hamlet dates back to the 12th-13th century with a historic medieval church as its centrepiece.
The vineyard was planted around 14 years ago. The location was chosen not only because of its southerly aspect, low altitude and free-draining sandy soil – but because of its beauty.
Low altitude, South facing slopes catch all the rays of sunshine and warmth of our English summers.
As still wine specialists, most planting is of exciting white grape varieties including Pinot Gris, Pinot Blanc, Auxerrois and Bacchus. Stopham also planted Chardonnay and Pinot Noir which goes into their sparkling.
Pinot Gris
Did you know Pinot Gris is the same grape as Pinot Grigio? Pinot Gris is the French term for the grape, which is a colour mutation of Pinot Noir. Mass-marketed Pinot Grigio from Italy can have a reputation for being a rather boring wine – crowd-pleasing, but dull.
Pinot Gris grown in Alsace for example, however, has a reputation for being far more complex, producing a rounder wine with riper fruit notes. Stopham's Pinot Gris very much emulates this style.
England has a cool climate for grape growing – that's why we only grow certain grapes here. Pinot Gris was chosen specifically because it prefers a cool/moderate climate. Under these conditions, Pinot Gris grows at its best. Pinot Gris is early-ripening, which means that spring frosts can be an issue. Stopham take a lot of care both in the vineyard and in the winery to ensure a bright and balanced, characterful Pinot Gris.
This is the perfect wine for sharing, as it is still a crowd-pleaser. We find notes of peach and apricot, with a creamy, nutty texture. The wine is bright and balanced. We love it with spicy food, but it's equally good with roast pork.
The 2018 Vintage
Wine producers across the UK hailed 2018 the harvest of the century following a record-breaking summer and an unusually warm autumn. This resulted in excellent quality grapes with high yields. The harvest produced clean, ripe grapes with concentrated fruit, and good sugars and acidity levels. The growing conditions were ideal.
The unusually hot, dry summer resulted in very ripe fruit, which translates to beautiful still wines. We were lucky enough to visit Stopham Vineyard on a beautiful harvest day in 2020. We were blown away by the volume and quality of the grapes on the vines. 2018 was an exciting harvest, a real stand-out in recent years.
The Winemaker
When Simon Woodhead left his Formula 1 engineering career at McLaren to do a Spanish language course in Madrid, he didn't know he would end up planting a Sussex vineyard. It was in Spain that Simon caught the wine bug. Initially he planned to import Spanish wines into the UK. He subsequently enrolled on a Wine Production and Business course at Plumpton Agricultural College near Lewes, Sussex.
Once at Plumpton, surrounded by English wine enthusiasts, Simon's passion for nature and agriculture inspired him to plant his own vineyard. The art and science behind fining, blending and balancing wine appealed greatly to his creative side. Then, by chance, at a friend's house party in the little West Sussex village of Stopham, Simon spotted a fallow south-facing sandy field, perfect for growing grapes. It wasn't long before in spring 2007, Simon planted 21,000 vines in a 20 acres field. The old Stopham dairy, a dilapidated Grade II listed Victorian barn, was renovated for the winery and Tom Bartlett, another Plumpton graduate from a wine retail background, joined Simon in time for the first vintage in 2010.
About Stopham Pinot Gris
Here's what you really want to know about Stopham Pinot Gris, what does it taste like? Well, this Pinot Gris is off-dry, with aromatic peach and pear fruit alongside the floral character on the nose. On the palate, this has excellent balance with crisp acidity. It is fairly full in body, with plenty of juicy fruit intensity. But it is refreshing and long, with a lively citrus and stone fruit finish.
This wine is an all-time favourite of ours here at ERW. It won a gold medal at the Independent English Wine Awards 2020. We think it is a really exciting English Pinot Gris, hands-down the best that we've tasted to date.
Visit elizabethrosewines.co.uk