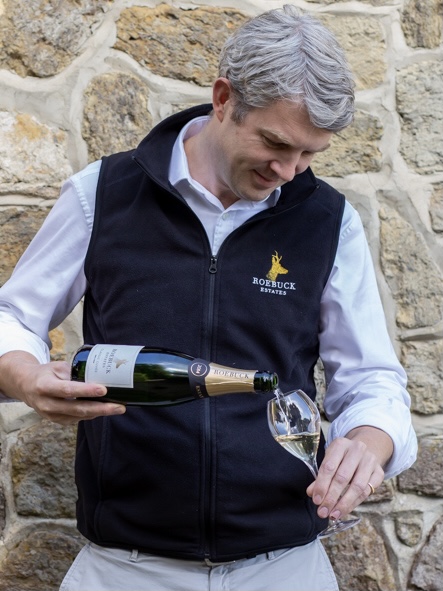 Wine Spotlight: Roebuck Estates
General Manager of Roebuck Estates James Mead is known for his wealth of experience working in the wine industry for highly-respected merchants both in the UK and Asia. James tells us about Roebuck Estates approach to winemaking, and the English and Welsh wines he's loving right now.
We don't shy away from…
…the fact that every growing season tells its own story and has its own unique characteristics. But we do try to keep a consistency in style for all of our wines. The blend of our Classic Cuvée remains largely the same every vintage. Both our Rosé de Noirs and Blanc de Noirs source their fruit from our Roman Villa vineyard so there is a consistency of style there too. We bottle age all of our wines for a minimum of three years to give that tell-tale richness, and use a small percentage of oak fermentation too.
The grower Champagne movement in France is something that we have real admiration for. Their drive to express a sense of place along with a house style is one that fits our ethos too.
It sounds like a bit of a cliché…
…but the best thing about the wine trade is the people. Working in our industry, you get to meet some incredibly talented and passionate wine professionals and enthusiasts from all corners of the globe. There's almost a sense of a shared bond that brings everyone together.
Working in wine also opens up opportunities to explore the world and enjoy different cuisine. These are memories and experiences that money can't buy.
My go-to midweek drink very much depends on my mood. During the warmer months, I tend to keep the style fairly light. I love trying new and interesting things from all over the world. For example a manzanilla sherry, local gin & tonic or chilled Provence rosé. In the colder months, I move to marginally fuller styles of drinks, anything Nebbiolo based usually keeps me satisfied.
We're obviously delighted with our recent award success. We know our wines are fantastic, but it pleases us most to hear that well-respected wine writers, buyers and sommeliers also appreciate how good they are.
Crafting great English sparkling wines requires a lot of time and hard work. We are meticulous in our approach, paying huge amounts of care and attention to each stage in the growing season and every minute detail.
All of our wines very definitely have an occasion where the are best enjoyed.
If I was pushed, my favourite of the wines we have produced would probably be our 2013 Classic Cuvée. It rarely enjoys any limelight, as it was massively overshadowed by the success of our 2014 Classic Cuvée. It marks the first wine we ever made (albeit small volumes). We've only got a tiny amount left that we predominantly sell from our cellar door.
At this moment in time, we are focused on building our sparkling wine portfolio. We are working on some smaller niche parcels of single vineyard wines that are a true expression of the wonderful sites we have here in Sussex. As is the case with the very best sparkling wines, it will be several years before these wines are ready to be released. But there are some exciting blends in the pipeline.
Like most folk out there, we are on a real voyage of discovery. Some of the innovation coming out of UK is very exciting. The still wines from London Cru and Tillingham are superb. And we can't wait to taste the Col Fondo from Langham once it has been released.
As a team, we are looking forward to…
…spending time with the people who sell and enjoy our wine. And on a personal note, we can't wait to dine out again at our favourite restaurants.
From sheep grazing during winter to the huge investment we've made in both new equipment and sophisticated vineyard monitoring technology, as well as a whole host of other initiatives. Sustainability is always at the forefront of our thinking.
My dream evening in is a simple, homecooked dinner with my wife and a couple of friends. This would have to include some of the delicious seafood from our friends on the Isle of Mull – the Ethical Shellfish Company.
My dream evening out is anything involving a beach, a cold alcoholic beverage, great music, delicious food and lots of friends and family.
Buy Roebuck Estates