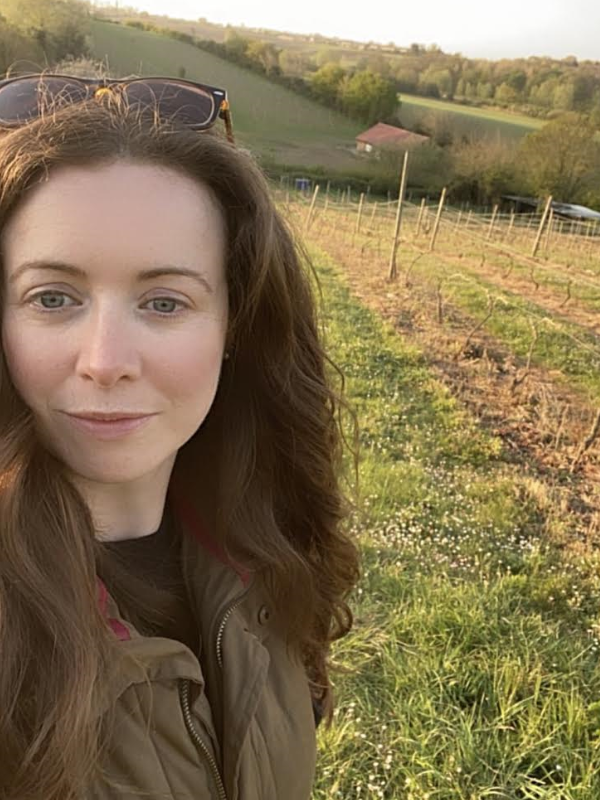 In 2017, Charlotte Davitt-Mills and her husband bought a plot of land in the village of Shotley with the idea to perhaps rent it out for glamping. They later discovered they had stumbled upon a 24-year-old vineyard with serious potential. Four years later, Charlotte tells us more about how their lives have been changed by Shotley Vineyard…
In 2017 a plot of land came up for sale near where we lived… It had the vines on it but hadn't been used as a vineyard for a long time. So we actually looked at it as a plot of land rather than a vineyard. Initially, my husband and I thought we might set it up as a glamping field or something. Then someone said the vines are in really good health. That's when we started looking into the industry and found it was on an upward trend. In my personal life, I was on maternity leave with my son. I got so involved in the vineyard on my leave that when it came time for me to return to work, I couldn't leave it. I was so engrossed.
Shotley was planted about 24 years ago… The vineyard was actually called Witenagemot – which is the meeting of the wise men in Anglo-Saxon. Craig and I took it over and had to change the name because we are not wise men unfortunately.
When you get your first bottle of wine back, that's a really special moment…
It's really nice having my son in the vineyard… He doesn't know any different. We joke that his earliest memory is going to be growing up in a shed because he spends so much time outdoors. Before the barn was built, we would just sit in our shed with our cups of tea and coffee. When he walks through the vineyard in his little wellies, he copies a few things. He'll knock off a few buds because he sees me bud rubbing. If there's any little bits of rabbit guard he tidies up, it's really sweet.
One highlight from the last four years is… getting our planning permission through for our barn. That took about a year. It's pretty much finished now. And I think as well, when you get your first bottle of wine back, that's a really special moment.
A typical day in the vineyard is… impossible to describe. Depending on the time of year there are all sorts of different things. We took on an apprentice in April with Plumpton. It's going really well. Each day we do a walkthrough of the vineyard and look out for different things and plan what we're going to do next. At the moment we're doing a bit of thinning and ground clearing. Because of the weather lately, we're looking out for disease.
When growing I… really try to get good sugar levels without letting the acidity drop too much. It's about the natural sweetness, we haven't added sweetness to the wines. It's just keeping it for as long as we can on the vine, weather permitting, to boost the ripeness so you get a really good flavour profile and keep it true to the terroir. Letting the fruit speak for itself.
A tour at Shotley involves… a walk through the vineyard for an hour. We talk about a year in the life of the vineyard, what we do in the vines, and a bit of history about Shotley. Then we come back down to the tasting room and have a taste of the wines.
We're releasing a sparkling wine soon that's unique to where we are…
I want people to know that Shotley Vineyard is… a really, really beautiful site. If you're at the top of the vineyard you can see across to the estuary where the Orwell and the Stour meet and you can see Felixstowe Docks. It's a really pretty site. There's lovely walks around here. Shotley is a pretty village and there's other things to do. There's a beach down the front.
We've teamed up with a local chef… and we're hoping to do some supper clubs at the vineyard in September. We are also going to do a foraging event. From the vineyard, it takes about 10 minutes to walk to the river Orwell. Foraging is something you can do all year round. You can find sea herbs like sea beet, sea parsley, pineappleweed, and samphire.
We're releasing a sparkling wine soon… that's so unique to where we are. It's Auxerois, Chardonnay, Seyval Blanc and Reichensteiner. That's the order of dominance. It's Charmat method.
Shop Suffolk Wine: